General Information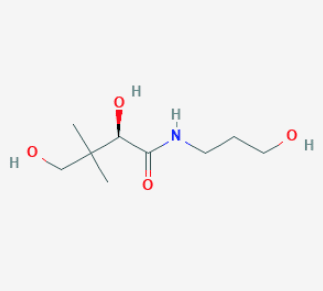 Dexpanthenol is a derivative of pantothenic acid, a B complex vitamin. Dexpanthenol acts as a precursor of coenzyme A, necessary for acetylation reactions and is involved in the synthesis of acetylcholine. Acetylcholine is the neurohumoral transmitter in the parasympathetic system and as such maintains the normal functions of the intestine. A decrease in acetylcholine content could lead to decreased peristalsis or even adynamic ileus in extreme cases. Dexpanthenol is used either intramuscularly or intravenously to treat paralysis of the intestines following surgery. Topically, dexpanthenol is used to treat dermatological conditions to relieve itching or promote healing.
Indications
Dexpanthenol is indicated for those following abdominal surgery to minimize the possibility of paralytic ileus. It is also indicated topically to treat or prevent dry, rough, scaly, itchy skin, and minor skin irritations.
Side Effects
Even though rare, some patients may have allergic reactions to dexpanthenol. Signs of an allergic reaction include rash, hives, itching, red, swollen, blistered, or peeling skin with or without a fever, wheezing, tightness in the chest or throat, trouble breathing, swallowing, or talking, and swelling of the mouth, face, lips, tongue, or throat. All drugs may cause side effects. Call your doctor or get medical attention if any of these side effects bother you or will not disappear:
– upset stomach

– vomiting
– diarrhea
– trouble breathing
These are not all of the possible side effects, therefore, if you have any questions, call your health care provider for more information.
Dosage
– Prevention of postoperative adynamic ileus: 250 mg (1 mL) or 500 mg (2 mL) intramuscularly. Repeat in 2 hours and then every 6 hours.

– Treatment of adynamic ileus: 500 mg (2 mL) intramuscularly. Repeat in 2 hours and then every 6 hours as needed until all danger of adynamic ileus has passed.

– Intravenous administration: Dexpanthenol Injection 2 mL (500 mg) may be mixed with bulk I.V. solutions such as glucose or Lactated Ringer's and slowly infused intravenously.
Contraindications
There are no contraindications for dexpanthenol. Precaution should be taken in those who are pregnant or breastfeeding as it is unknown whether this drug may cause fetal or infant harm. Speak with your doctor prior to use. 
Interactions
There are multiple medications that can interact with dexpanthenol. Make sure to bring a list of medications and any other products you may be talking to your healthcare provider. This will help avoid any possible interactions.